Rescued bittern spotted in Suffolk reserve two years on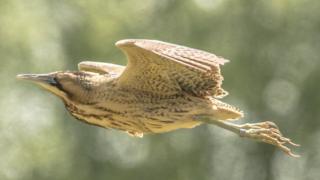 An injured bittern found by a roadside pond in Hertfordshire has been spotted thriving in Suffolk almost two years after it was saved.
The rare bird was nursed back to health and ringed before her release at the RSPB nature reserve at Rye Meads in Hertfordshire in September 2016.
Photographers have now managed to snap the bittern, identified by a metal ring, at the charity's Lakenheath Fen site, 70 miles away.
The find was described as "incredible".
According to the RSPB, bitterns are scarce and secretive members of the heron family and only nest in reedbeds. They are known for their distinctive "boom" call.
In 1997 there were though to be only 11 "booming male" breeding bitterns in Britain. The figure rose to 166 in 2017.
The bird was discovered injured in Letchworth and looked after by volunteers at Wildlife Welfare in Stevenage before its release at Rye Meads. It was spotted locally five months later.
Special permission had to be sought from the British Trust for Ornithology (BTO) to have it ringed on its left leg with a unique number.
The bittern was then photographed by enthusiast David Gowing from the RSPB's Mere Hide at Lakenheath Fen before officials from the RSPB and BTO verified its identity.
Visitor experience officer, David White, said: "Bitterns are not known for flying very far during their lives so it is incredible to think that this bird has come all of this way.
"If this bird hadn't been ringed we would have never known where it had come from and how far it had travelled to get here."
He said the hope was the bird would breed with one of at least 10 booming males currently on the site.
Dawn Balmer of the BTO said: "The photo of the bittern in flight enabled us to identify exactly where and when the bird had been ringed.
"Only a handful of bitterns are ringed each year (three in 2016), so this has provided valuable information on survival and movements".