Delays at Port of Felixstowe due to IT problems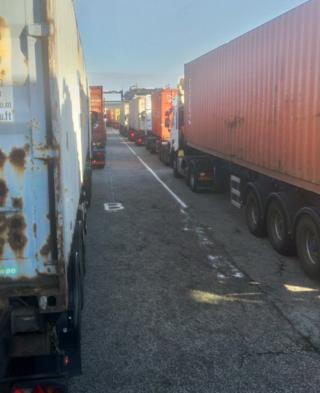 Computer problems have caused major delays at Britain's biggest container port.
Lorry drivers at the Port of Felixstowe in Suffolk have complained on social media about 16-hour tailbacks after a new IT system was introduced on Sunday.
The port said it was aware of problems in its container yard, but it still handled 3,800 lorries on the first day.
It expects normal operations to be resumed "within 24 to 36 hours".
Dave Perfect, of D Perfect and Sons transport firm in West Thurrock, said delays have been hitting local logistics firms.
'Money lost'
"I dread to think how much money has been lost to our industry this week," he said.
A spokesman for Felixstowe port operator Hutchison Ports said the delays were caused by its "new terminal operating system".
He said: "The new system is operating across our container and rail terminals after a successful migration of data on Sunday."
The IT system is already in use at 25 Hutchison Ports around the world, the spokesman added.
"It will provide a stable, reliable and consistent level of performance for our customers for many years to come," he said.
He thanked people using the port for their "cooperation and understanding during this time".