Neolithic henge unearthed at East Anglia One cable site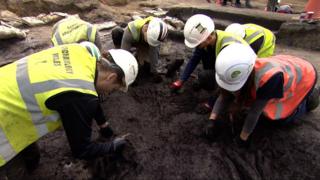 Archaeologists have unearthed a "phenomenal" Neolithic henge along the cable route for a £2.5bn wind farm.
Experts have said the large ceremonial complex in Suffolk is a discovery of "international significance".
Scottish Power Renewables said it was altering the 23-mile cable route around the area as a result of the find.
East Anglia One is being built 30 miles (48km) off the coast and the site at Woodbridge is one of 50 excavation sites along the cable route.
Archaeologists have also found the remains of an aurochs, a prehistoric cow.
Project manager Vinny Monahan said the findings were "phenomenal".
The henge - which means a circular monument dating to Neolithic and Bronze Ages - consists of a ditch with an external earthwork, and a burial mound at the centre, said Mr Monahan.
He said the henge ditch had a "perfectly preserved" walkway, with wood in some places "as good as the day it was placed in the earth".
"You can see tool marks, and the differences in handedness of people, whether they were left-handed or right-handed," he said.
You can read more stories about archaeological digs around England on our Pinterest board.
Mr Monahan, of Archaeological Solutions in Bury St Edmunds, said it was not clear what the complex was used for, but there were indications it could have been for ceremonies related to death or the living.
He said: "Nothing compares with the intensity and complexity of this site and how it was utilised for thousands of years.
"It says to us this location is a special place, it was venerated for thousands of years and people came here and focussed their attention on this part of Suffolk."
Mr Monahan said their goal was to make the site visible and somewhere for people to explore the prehistoric landscape of Suffolk.
The intended 23-mile (37km) route of the cable ran from Bawdsey, just north of Felixstowe to Bramford near Ipswich.