Ipswich Odeon cinema building to become a church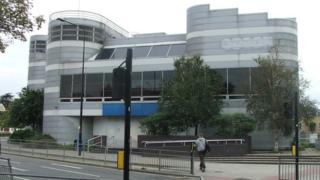 A derelict cinema which has been empty for 13 years is to get a new lease of life as a church.
Ipswich Borough Council's planning committee gave the green light for the conversion of the town's former Odeon.
The five-screen cinema closed in 2005 and will become a new place of worship for Hope Church, which is currently based in Fore Hamlet.
The church is in negotiations to buy the building, which is owned by the same firm which owns Empire Cinemas.
Hope Church lodged the application to turn it into a place of worship as it said it had outgrown its current premises.
Under the plans, there will be a cafe that will be open to the public, two auditoriums for congregations and separate rooms for children's workshops and activities, office space, events and conferences.
The church hopes to complete the move within the next 12 months.
'Ipswich flourish'
Liz Harsant, Holywells ward councillor, who spoke on behalf of the church at the committee meeting, said: "Hope Church has been in Ipswich over 25 years and played an active part in the community for much of that time."
She said it was pastor Tom Scrivens's desire "and that of the church to see Ipswich flourish and they wish to play their part in that".
The building was used as a cinema from 1991 to 2005.
An application was lodged in 2006 for multi-leisure use to create a nightclub, bowling alley and restaurants, but this never came to fruition.
The building was sold in 2014 for £530,000.
The 2017 local plan had designated it for leisure use, but it was considered by planning officers that a place of worship was acceptable.