Sutton Hoo: Dig ahead of platform tower construction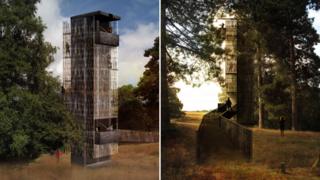 The first archaeological dig for 27 years is taking place at the site where a grave, believed to belong to an Anglo-Saxon king, was uncovered.
The National Trust is planning to create a 17m (56ft)-tall viewing tower at Sutton Hoo which will look out across the burial mounds.
One mound is believed to be the final resting place of King Raedwald, who ruled East Anglia in the 7th Century.
A team is checking the ground for artefacts before the tower is built.
The tower project, part of a £4m scheme to improve the site, is due to be completed next spring.
The dig will be the first near the mounds since 1991.
'Archaeological lottery'
Work began on excavating the mounds in 1939 and the discovery was made of the famous burial ship, featuring a warrior's helmet.
Allison Girling, the National Trust's property operations manager at the site near Woodbridge, said: "We honestly don't know what the excavation might reveal - there could be finds ranging from the iron age and prehistoric times or the Anglo-Saxon period."
The dig is being carried out by a team from the Museum of London Archaeology (Mola). They will be digging about 50cm down, where the foundations of the new tower will be placed.
Alison Telfar, Mola's project manager, said: "Digging here is the chance of a lifetime - like winning the archaeological lottery.
"We've had people ploughing here for 2,000 years so anything would be exciting - you just don't know what you're going to find."
---
Sutton Hoo's history
The famous discovery was made when the landowner Edith Pretty asked archaeologist Basil Brown to investigate the largest of several mounds on her property.
Among the many finds were the buried boat. This contained the remains of a warrior's helmet, which is kept in the British Museum.
It is thought the ship was hauled to the site from the nearby River Deben.
Although there are no written records or clues, the general consensus is that the burial, in about AD624, was for a person of high social standing - probably King Raedwald, who ruled the Anglo-Saxon kingdom of East Anglia (modern day Norfolk and Suffolk) more than two centuries before it became part of the larger Viking Danelaw.
---
The latest excavation work is due to last until Saturday, and visitors to Sutton Hoo can watch the dig in progress.