Three jailed over Southwold people smuggling attempt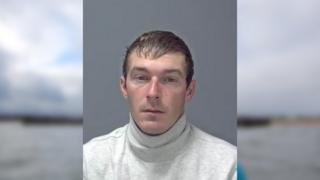 Three men who tried to bring illegal immigrants into the UK "under cover of night" have been jailed.
The group of 19 people arrived on a yacht at Southwold harbour, Suffolk, from the Ukraine on 15 October 2017.
Ringleader Yevhenii Vasylikov, 31, had rented the boat in the Netherlands, while accomplices Mykhailo Roik and Yurii Dzhuraniuk acted as "couriers".
Vasylikov was jailed for three years and three months. Roik and Dzhuraniuk, both 27, were sentenced to two years.
Sentencing the men, all of no fixed abode, at Blackfriars Crown Court, Judge Alexander Hugh Milne QC said: "There are more sophisticated people above you in the chain who walked away and left you to face the music."
The court heard Vasylikov was trying to flee Ukraine in a bid to avoid conscription to the army and to help his disabled sister.
After an earlier attempt to take a boat to the UK from France failed, he successfully chartered the yacht from the Netherlands using Lithuanian ID, the court was told.
Defending, Andreas O'Shea said Vasylikov was "exploited because of his wish to come to the UK".
The court was told the boat, called the Flamingo, which carried the illegal immigrants was only meant for eight people.
The judge said it arrived "under cover of night".
The authorities found nine illegal immigrants on the yacht, while 10 were caught on the A12 heading to London in two cars being driven by Roik and Dzhuraniuk.
Dzhuraniuk claimed he had "no idea" he was carrying illegal immigrants.
On arrest, Roik asked the police: "Am I in big trouble?", which his lawyer Philip Farr said showed he "did not fully understand the gravity of what he involved himself in".
Jurors found both drivers guilty of assisting unlawful immigration, while Vasylikov pleaded guilty on day two of the trial.