Stowmarket woman wins £1m on Lottery scratchcard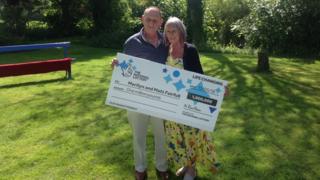 A woman who enjoys playing scratchcards as a "little treat" has won £1m.
Marilyn Fairfull scooped the money after successfully matching symbols on a National Lottery Scratchcard she bought at a petrol station.
She said she will put it towards renovating her home in Stowmarket, a new car and a summer of watching the family's favourite sports.
The married mother-of-four said it felt "amazing... surreal" and she was "in total shock".
Mrs Fairfull, 64, said she bought the winning Monopoly Classic scratchcard at the Esso in Combs Ford on her way to pick up one of her sons.
"I do like to play scratchcards, it's my little treat, so I decided to cash in a previous winner and treat myself to a couple," she said.
"The first, I won £20 and was really chuffed that I was quids in. With no sign of our son, still sitting in the car, I played the second one.
"Matching two bank symbols, I revealed the prize below and couldn't believe what I was seeing - £1m."
She said the family has no intention of moving house, but will redecorate their home.
They also plan to have a holiday for the first time in a decade, buy tickets for Wimbledon and buy a large television to follow the football World Cup this summer.
Her husband of 33 years Matt, 62, said it "won't change their lives".
"We are normal people," he said. "You don't think it's ever going to happen to you."