Dog died in 'hot as an oven' horse box after Euston Hall event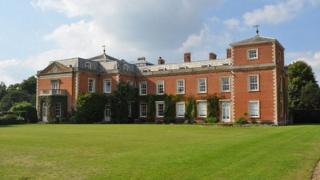 A man whose dog died after it was left in a horse box on a hot summer day has been found guilty of animal cruelty and fined.
Iain Cockley-Adams, of Gloucestershire, had left his collie-cross dogs in the back of the vehicle while his wife took part in an endurance event at Euston Hall, Suffolk, on 18 June.
The court was told the horse box felt as "hot as an oven" when it was opened.
Cockley-Adams said he felt he took "appropriate" steps for the animals.
East Suffolk Magistrates' Court heard one dog, Wade, was found collapsed and unresponsive when ground staff opened the horse box at about 15:45 BST.
He was later put down and a second dog, Dec, was found panting and dehydrated.
Magistrates were told temperatures had reached 29C (84F) on the day.
'Clear message'
Cockley-Adams said he had left four bowls of water for the dogs and he had been to check on them at 09:30 and 13:40. They had been locked in the vehicle from 07:30.
He said he had a routine of checking the dogs during convenient time gaps at endurance events, and had never had a problem before.
"My experience was telling me what I was doing was going to be OK," he said.
"My interaction with the dogs during the course of the day didn't do anything to make me think otherwise."
Cockley-Adams, of Sevenhampton, near Cheltenham, was convicted of causing unnecessary suffering to a protected animal and failing to ensure the welfare of both dogs.
He was ordered to pay £3,437 in fines and costs, and banned from owning a dog for three years.
The RSPCA, which prosecuted Cockley-Adams, said it hopes the sentence "sends out a clear message that leaving a dog in a hot vehicle will not be tolerated by the courts".