Ipswich crash police cleared after man struck by car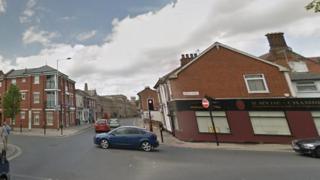 Police involved in a pursuit through the streets of Ipswich which led to a vehicle hitting a man did not breach any rules, a watchdog has said.
A Suffolk Police officer was driving a hire car as part of a counter drugs operation in St Helens Street on 23 June 2017.
His car was driven on to the wrong side of the road and hit a man running from police, causing him to break an ankle.
The Independent Office for Police Conduct said no offences had occurred.
The man sustained a fracture to his left ankle after being struck in the road, the watchdog (IOPC) said.
The pursuit was reported in the Ipswich Star.
An IOPC spokesman said: "During the investigation, investigators obtained witness statements from police officers and members of the public, examined dash camera footage and criminally interviewed the driver of the vehicle.
"The investigator found no indication that any person serving with the police may have committed a criminal offence or behaved in a manner that would justify the bringing of disciplinary proceedings."