Stone curlew eggs stolen from Cavenham Heath reserve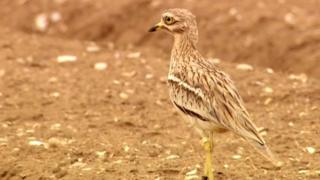 Eggs have been taken from a stone curlew nest at a nature reserve in west Suffolk, police have said.
Four eggs were stolen from Natural England's Cavenham Heath reserve, near Bury St Edmunds, between 4 and 9 May.
The birds are considered "very rare" in the UK, with only 400 breeding pairs, and receive the highest level of protection.
Natural England senior reserve manager Chris Hainsworth said he was "shocked and saddened" by the theft.
"Only 30 years ago we nearly lost them from the English countryside altogether and it is only by the hard work of local farmers and landowners supported by Natural England and RSPB that we have managed to start to see the population slowly rise," he said.
Suffolk Police is appealing for information about the theft.
Stone curlews
Stone curlews are about the size of a crow, with large yellow eyes that point downwards and long yellow legs
Males usually return to areas within nine miles (15km) of their hatching site to breed
Camouflage and secrecy are stone-curlews' natural defences and nesting birds, eggs and chicks are all but invisible
They nest on open, bare ground on semi-natural grass heaths or downland, and on arable fields, typically associated with chalky and sandy soils
The nest is a simple scrape, lined with small stones, shells or pieces of vegetation
They feed at night on beetles, insects and worms
Sgt Brian Calver said: "The stolen eggs have been measured and photographed so offenders can be easily identified.
"The eggs also have very detailed individual markings. Egg collecting is nowhere near as common as it used to be but sadly still goes on.
"Rare populations can be adversely affected by the actions of these individuals."