Upper Orwell Crossings: Campaigners warn of traffic surge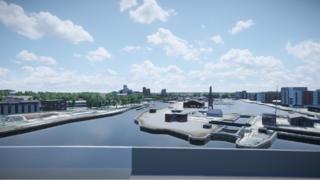 A campaign group is warning that roads in Ipswich will become a "major thoroughfare" with the building of three new bridges.
The River Action Group (RAG) wants the Upper Orwell Crossings scheme to consider the traffic impact along Cauldwell Hall Road and Cliff Lane.
The group protested outside Cliff Lane school in Ipswich on Thursday.
Ipswich councillor Paul West said "all views will be taken into account" for the county council-backed scheme.
Campaigners said there were estimated traffic levels of 1,000 cars per hour and suggested the road could be used as a diversion when the Orwell Bridge closes.
RAG chairman Matthew Thomas said: "What we are going to see is the road getting a lot, lot busier.
"What we have seen is a plan that will transform a quiet residential area into a major thoroughfare," he said.
Campaigners said they were not necessarily against the development if it had the right solutions in place to address traffic concerns.
Mr West, who met the group, urged people to share their concerns during the consultation later this year.
These will be considered by the Planning Inspectorate when the application is discussed.
He said a balance needed to be struck to ensure success for the multi-million pound project.
"It's about trying to get the benefits the bridge will bring in terms of reducing the journey times for the whole of Ipswich, but mitigating - as far as possible - any adverse impact on a particular local area," said Mr West.
Construction work on the crossings is due to begin in 2020 and will take three years, the council has said.
The scheme will provide a main bridge over the river, a wet dock crossing and another for cyclists and pedestrians.