Suffolk Conservative leader Colin Noble ousted by Matthew Hicks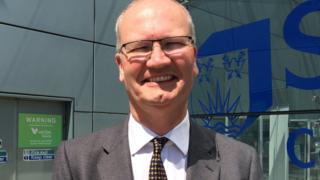 The head of the ruling Conservative party on Suffolk County Council has been ousted in a leadership battle.
Colin Noble has led the group, and the county council, since 2015 but has been replaced as head of the Conservatives by Matthew Hicks.
The announcement was made after the county's 52 Tory councillors took part in a secret vote.
Mr Hicks is expected to take over from Mr Noble as council leader after a full council annual meeting on 24 May.
He initiated the battle in a letter to all Conservative councillors, stating that he wanted to unite the group and for it to be more inclusive and transparent. Mr Hicks also cited the possibility of Suffolk becoming a unitary authority as a trigger for his challenge.
He said he was "honoured and excited" by the result following the ballot at the county council's headquarters in Ipswich.
"Any challenge is always difficult for any organisation, but I think the group is very matter-of-fact and this is part of the process of running a group," he said.
"I think Colin has been an excellent leader for Suffolk - he has achieved a lot and we are grateful for all… he has put in."
Mr Hicks said he was congratulated by Mr Noble after the vote and that the Tory group was united.
"We are all in the same party, we are all together," he said. "We shook hands and agreed to meet next week and have further discussions."
Mr Hicks, cabinet member for waste, fire and the environment, was elected to the county council in 2013 after serving on Mid Suffolk District Council for two years.
Mr Noble, who has been contacted for a comment, has served on the county council for 12 years and is also a Forest Heath District councillor.