Pupils 'routinely restrained' at Ipswich special school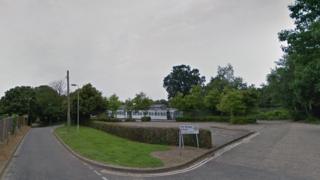 Children with special needs were routinely physically restrained at a school described by inspectors as "woeful" and "dire", a report said.
The Bridge School in Ipswich has been rated as inadequate in all areas by the Ofsted inspectors.
They found a "long-standing" and "serious" decline at the school which caters for children with severe and complex learning difficulties.
The school and county council described the findings as "distressing reading".
They said the report was a "thorough and accurate assessment" of the school at the time of the inspection in March; it had received a rating of good following a previous inspection in January 2015.
Ofsted found routine use of physical restraint with some pupils, which was "poorly recorded" and "rarely reviewed by leaders".
'More vigilant'
The watchdog said the learning environment did not meet the needs of the pupils and in some areas, it was of "dire quality".
Safeguarding systems were "woefully ineffective", inspectors said.
The report said pupils often became distressed and in 2016/2017, there were more than 2,000 incidents of poor behaviour at the 150-pupil school.
Judith Mobbs, assistant director for inclusion and skills at Suffolk County Council, said: "We recognise that we've made mistakes and we should have been more vigilant.
"The important thing now is that there are children at this school who we collectively have to give a better deal to."
In a joint statement, the school and Suffolk County Council also said: "We know what needs to be done, including improving teaching and learning, behaviour and safeguarding and putting in place proper management systems.
Philip Illsley, chairman of Bridge School's interim executive board said the situation at the school had "moved on considerably" in the eight weeks since the inspection.
Whilst he accepted the picture reported by Ofsted was an accurate one, he added: "There were practices in place that were out-of-date and which are no longer used."
Mr Illesly took on the role the day after inspectors visited.