Stepping back in time with the Tudors of Kentwell Hall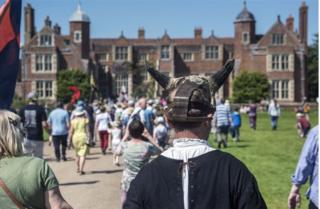 Kentwell Hall is a Tudor mansion with an exterior largely unchanged since 1550. Today it makes the perfect venue to experience the sights, sounds and smells of the 16th Century by recreating the Tudor period.
Yet this was not the original intention of owners Patrick and Judith Phillips when they bought the near-derelict house in Long Melford, Suffolk, in 1971, to turn into their family home.
Mrs Phillips said they were undeterred by the collapsing roof, almost no electricity and water that had to be pumped from a well - but it was the "galloping inflation" of the 1970s which persuaded the couple to create their first immersive Tudor experience, so the house could contribute to its upkeep.
The events now attract more than 200 re-enactors each year who move into the hall - speaking, eating, working, playing and living as near as possible to how our Tudor ancestors did.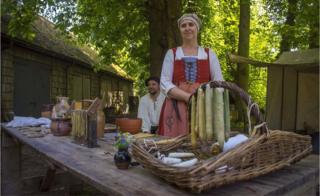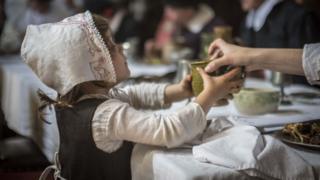 Honor Ridout, from Cambridge, heard about the events in 1983 and has been taking part ever since.
She said: "I thought how wonderful to try to do things the Tudor way - they even walked differently because their shoes don't have heels, while women's heads have to be covered at all times."
She brought her children and now her grandchildren also attend.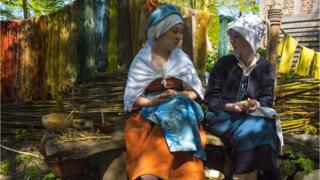 The re-enactors - who are volunteers - take their roles seriously.
They use the language of the time, they only eat food that was available to the Tudors and cook it using the technology of the era.
They refuse to go out of character and refer to their lives away from Kentwell.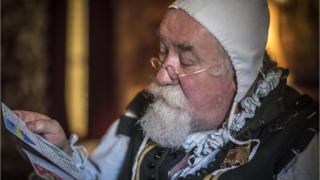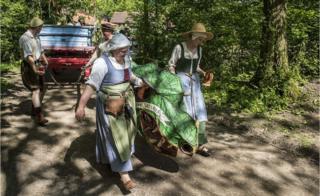 Christine Fowler, who has been volunteering at Kentwell for more than 20 years, said: "It's not acting, you're you, but you're in a different place."
Her roles over the years have included working in the sewing room, in the bake house and several years of cooking potage - the main food for the Tudor "lower orders".
This is a thick, mostly vegetable stew made from whatever food is in season.

Tudor words translated
Venetians are spectacles
A monster is a prodigy or wonder
A coney is a rabbit
The garderobe is the loo
A trencher is a plate of stale bread or wood
Source: Kentwell/TudorHistory.org

They also drink a great deal of small beer - a weak fermented drink which, unlike modern beer, is not made from hops.
In contrast, the gentry are served a lavish feast of up to 16 courses of fish, meat, potage and elaborate sweetmeat constructions made from almond, honey and sugar.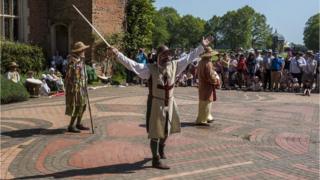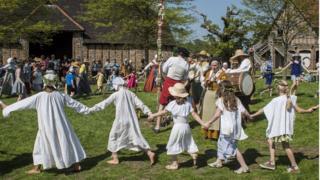 Most of the Tudor events take place over a weekend, but in the summer the re-enactors are in residence for nearly two weeks.
Photography by Tom Cawley and Laurence Cawley