Labour holds Ipswich Borough Council and wins a seat from the Tories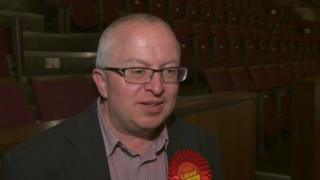 Labour has kept control of Ipswich Borough Council, winning one seat from the Conservative Party.
The party successfully defended its 11 wards up for election and took the Holywells ward.
The Conservatives held on to three wards.
Liberal Democrat group leader on the council Inga Lockington held on to her St Margaret's ward with 1,493 votes - the highest number of votes of any councillor in Ipswich.
Labour group and council leader David Ellesmere welcomed the results.
"We are protecting services, such as keeping brown bins free of charge and they can see the under-investment in our roads by the Conservative county council," he said.
---
Analysis: Vikki Irwin, BBC Suffolk political reporter
There was never really any doubt that Labour would keep control of Ipswich Borough. The Conservatives would have had to win all Labour's 11 seats, as well as hold onto their four, to gain control.
Saying that, voters in this town have been unpredictable in the past. They ousted a Labour MP in 2010, voted for a Conservative in two elections, and then turned back to Labour last year.
So you can't really take anything for granted. Tonight though, the only surprise was the ward of Holywells, a tight race with just 45 votes in it, clinched by the Labour candidate.
The Conservative group leader Ian Fisher said he wasn't surprised by the loss, blaming the "hot topic" of the Upper Orwell Crossing for turning Conservative voters off.
However, Labour's group leader David Ellesmere said the victory had more to do with the borough's success and the voters' perception that the Conservative-run county council is not addressing issues with the roads.
Although this year is not the big test. Next year there are significantly more Conservative seats up for re-election, and David Ellesmere says he has his sights now set on those.
---
Ian Fisher, leader of the Conservative group on Ipswich Borough Council, said it was a "disappointment" losing the Holywells seat.
He added: "I am happy that across the board we have increased our vote share by 10%."