Suffolk murders: No referrals at Hope Centre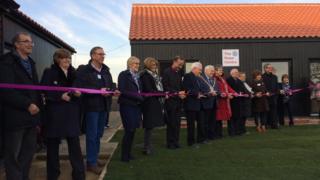 A £500,000 centre built to help women recovering from addictions has not treated anyone since it opened seven months ago.
The Hope Centre near Ipswich was set up as a legacy to the five women, all of whom had battled with drugs, killed by Steve Wright in 2006.
Suffolk Christian charity Talitha Koum said "a variety of factors" had led to no-one being referred since it opened.
It has decided to open up the centre to support other vulnerable women.
Donations following the deaths of Gemma Adams, Tania Nicol, Anneli Alderton, Paula Clennell and Annette Nicholls, helped to build the centre in Witnesham.
It was intended to give women a "second chance so they can come off drug and alcohol addiction and change their life for the better".
Project director Ken Donaldson said one of the challenges the charity had faced was a reduction in government funding. The BBC has approached Public Health England for a comment.
Mr Donaldson says the seven ensuite rooms and communal facilities at the centre will be offered to vulnerable women who need refuge, respite and rehabilitation.
"There's been such a huge investment to create a centre that's ready to be used, it would be folly for us not to be using it," he said.
Talitha Koum wanted to open a treatment facility for women as early as 2004, but said it was the murders of the women who worked on the streets of Ipswich that highlighted the need for new ways to help substance abusers.
The charity takes its name from a biblical quote, meaning "my child, get up," in Aramaic.