East Suffolk councils merger will cut number of members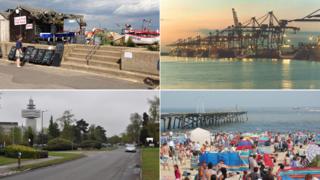 A merger of two Suffolk district councils could see the number of councillors nearly halved.
Plans are under way for Waveney and Suffolk Coastal to join up and create East Suffolk Council next year.
The first ever joint meeting of the two existing full councils has approved the proposal to reduce the number of elected members from 90 to 55.
The Boundary Commission, which has to sign off the plans, will now oversee a public consultation.
Suffolk Coastal District Council currently has:
42 councillors across 26 wards - one ward with three members, 14 with two and 11 with one
Waveney District Council currently has:
48 councillors across 23 wards - seven wards with three members, 11 with two, and five with one
East Suffolk Council would have:
55 councillors across 29 wards - five wards with three members, 16 with two, and eight with one
The joint meeting of the full councils, which are both Conservative-controlled, met in Darsham.
The government has accepted the business case for merger which, subject to parliamentary approval, could happen in April next year.
The council leaders believe a merger would save about £800,000 a year across both local authorities.
'Absolutely crazy'
Ray Herring, Conservative leader of Suffolk Coastal, said: "We're a cost-effective, outward-going, new local authority and you don't need the number of councillors as you did in the past."
Mark Bee, Conservative leader of Waveney, said: "It's good that it's been cross-party. We've not always agreed, but we've at least allowed everyone to have their say."
Sonia Barker, Labour leader at Waveney, who voted for the proposed new ward map, said: "This is about practicalities now and people must respond to the consultation."
John Kelso, Liberal Democrat councillor for Martlesham in Suffolk Coastal, was the only member who voted against the proposals.
He said: "The ward's been split and we could end up with eight or nine district councillors [for Martlesham] - it's absolutely crazy, it's not good democracy."
The public consultation is due to run 3 July to 27 August.