Thorpeness cliff collapse: Dog walker death 'accidental'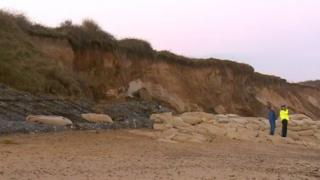 A man walking his dog on a beach died from "massive multiple injuries" when a cliff collapsed on to him as he walked his dog, an inquest has heard.
Brendan Lavery, 58, of Ingham, was buried by the landfall at Thorpeness, Suffolk, on 14 January last year.
Coastal civil engineer Paul Patterson told Suffolk Coroners' Court the cliff collapsed in an area hit by very high tides in the preceding days.
Assistant Coroner Dr Daniel Sharpstone concluded it was an accidental death.
Mr Lavery and his partner Lynne Tibbert had travelled to the coast to walk their two dogs, but the tide was high and they had to walk close to the base of the cliffs.
Ms Tibbert told the court in Ipswich she had noticed sand pouring from a spot about 25ft (7.5m) up.
"The next thing was there was a rumble like thunder," she said,
"I started to run towards the sea. Brendan was directly under the cliff."
The collapse of mud and sand buried Mr Lavery and left Mrs Tibbert trapped by debris to the top of her legs.
As firefighters and coastguards tried to locate Mr Lavery, an eight-year-old girl who had seen the cliff fall was able to help pinpoint where he might be, the inquest heard.
Mr Patterson said the high tides had led to "significant" erosion along several stretches of coast.
Landowner Glencairne Ogilvie said a in a statement: "I honestly do not know what I could have done to prevent this accident from happening."
He later posted warning signs in the area of the cliff collapse.