A12 Suffolk crash: One dead in multi-vehicle collisions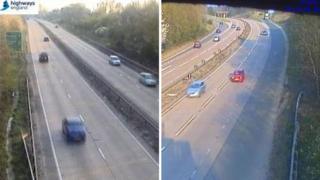 One person has died and another has serious leg injuries after two multi-vehicle crashes that have closed the A12 near Ipswich.
The injuries were sustained when four cars and two lorries crashed on the northbound carriageway at Copdock at 12:40 BST.
This was followed by a three-vehicle crash on the southbound carriageway at 14:15 BST.
Suffolk Police said the road was likely to remain closed late into the evening.
There were no reports of any serious injuries in the second crash, police said, which happened directly opposite the scene of the first.
Traffic was being diverted off the northbound carriageway at Capel St Mary, and off the southbound carriageway at Washbrook.
Up to seven fire vehicles were sent.
The East of England Ambulance Service said a helicopter from the Essex & Hertfordshire Air Ambulance Trust was also needed.