Hatfield school denies charging pupils for water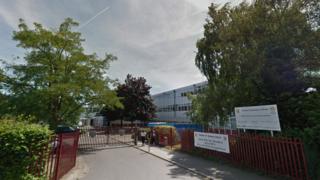 A school criticised on social media for charging for plastic cups on the hottest day of the year has denied claims children had to pay for water.
Onslow St Audrey's School in Hatfield, Hertfordshire, made national headlines over claims that children could not get water without paying for it.
The high school said pupils were encouraged to bring a reusable bottle in or buy a disposable cup for 5p.
But it provided cups free of charge if a child has no money, the school said.
National media reported that parents were angry because pupils were being charged 5p for a cup of water.
Acting head teacher Joelle Casotti, said: "Water has always been and continues to be freely available to students of the school."
In a statement, she told the BBC that there were four water dispensers in the building and parents were encouraged to provide their child with a reusable bottle which could be used to fill with water as required during the day.
Disposable cups are available should children not have a water bottle, which cost 5p, "to encourage students to be responsible citizens and bring in a reusable bottle and therefore reduce waste".
However, "at no time will a child ever be refused access to water", she said.
"If a child does not have their water bottle and does not have 5p for a cup we provide a cup to them free of charge."