Driver denies knowledge of Southwold smuggling bid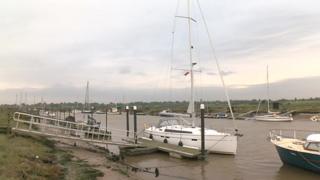 A man accused of helping to smuggle 19 migrants into the country told a court "he had no idea" he was carrying illegal immigrants in his car.
Yurii Dzhuraniuk, 27, is one of three men who deny trying to smuggle Ukrainians into the UK on 15 October.
Ten migrants were found on or near a yacht which arrived at Southwold, Suffolk. Nine were found in cars on the A12, Blackfriars Crown Court heard.
Mr Dzhuraniuk said a man named Sasha Anashkin asked him to drive the men.
He said he agreed because he thought Mr Anashkin may be able to provide him future work.
Mr Dzhuraniuk told the court he met Mr Anashkin in a car park near a petrol station in East London and was given three fuel cans, some phone Sim cards and some top up vouchers.
He then drove his Renault Espace to Suffolk where he picked up the six migrants.
They were stopped by police on the A12 at Blythburgh in Suffolk and arrested, the court was told.
When asked by prosecutor Tim Hunter if he had made up the story, Mr Dzhuraniuk said "no".
Mr Dzhuraniuk, Mykhailo Roik, 27, and Yuri Karakin, 27, deny people smuggling.
A fourth man, Evhenii Vasilikov, has admitted the charge.
The court previously heard the boat arrived in Southwold from the Netherlands.
False identity papers were used to charter the yacht, called Flamingo, the court was told.
The trial continues.