Woodbridge pub damaged by tall vehicle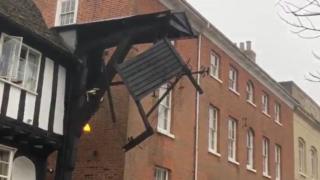 A historic pub weighing machine has been severely damaged after an oversized lorry drove into it, closing a town centre road.
A vehicle struck the Grade I-listed structure at Ye Olde Bell & Steelyard in Woodbridge, which overhangs New Street.
The pub's landlord said the truck passed height restriction signs before hitting the old weighbridge.
Suffolk Police said they would be interviewing the lorry driver.
The collision happened at about 07:10 BST.
Hugh Thomas, tenant landlord of the pub, said: "It's an iconic piece of Woodbridge and certainly an iconic piece of the pub."
'Disgusted'
The Woodbridge Museum said as only one of two left in the country, the registered monument, which was once used to weigh loaded wagons, would have to be rebuilt.
The term steelyard is an old name for a weighing balance.
Bob Merrett, from Woodbridge Museum, said the machine, which operated via levers, pulleys and metal weights, would weigh carts before and after they were loaded with goods - usually corn - and taken to the riverside for onward transport.
"I'm disgusted really and gutted that such a historic part of the town has been damaged," he said.
The weighing machine is believed to have been part of the building since the 1600s and probably stopped being used in the 1800s with the advent of the railways, Mr Merrett said.
In the 1970s, a wagon was weighed to show the public how the machine was once used.
Mr Thomas said the pub's owner, Greene King, its insurers and listed building officials had been notified about the damage.
New Street is one of the main roads in the town centre and police closed it to traffic.
A Greene King spokesman said a structural engineer had been sent to the building and an assessment was being carried out.