Corrie Mckeague: Missing airman search to be stood down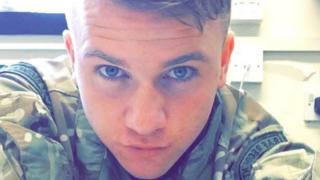 There are "no realistic lines of inquiry left" in the investigation into the disappearance of RAF airman Corrie Mckeague, police have said.
Mr Mckeague was 23 when he was last seen on 24 September 2016 walking into a bin loading bay in Bury St Edmunds.
Suffolk Police said the inquiry, which has cost £2.1m, had been handed to a cold case team but remained open.
Det Supt Katie Elliott said: "It is extremely disappointing that we have not been able to find Corrie."
"We have now reached a point where we are unable to make any further progress, and have gone as far as we realistically can with the information we have," she added.
A police spokesman said the case had always been a missing persons investigation and there is no evidence of "criminal activity or third party involvement".
Corrie's family will be devastated, but not surprised
By Alex Dunlop, BBC East senior defence reporter
Corrie Mckeague had no reason to vanish. He comes from a loving family and has a strong second family - his fellow gunners at RAF Honington. I use the present tense because he is still officially missing, but the police and his parents now hold out little hope that the Scottish airman is still alive.
Why has this 18-month investigation gained such huge public interest? A combination of factors: Corrie is a serviceman, his girlfriend - unbeknown to him - was pregnant with his baby daughter and his family have kept the search for him in the public domain thanks to social media.
Now the case has 'gone cold', Corrie Mckeague's family will be devastated but not surprised. I have come to know Corrie's mother, Nicola Urquhart, well. She is articulate and determined. Her family is in Scotland, but she has had to make Suffolk her second home.
Corrie's family cannot properly mourn until they have some resolution. For now that seems a long way off.
Suffolk Police said it had been "re-examining the evidence relating to all realistic theories to identify whether there is anything else that could be done to establish what could have happened to Corrie".
But the force said an assessment of the evidence "still points to Corrie being transported from the 'horseshoe' area in a bin lorry and ultimately taken to the Milton landfill site".
Mr Mckeague was last seen on CCTV pictures at about 03:25 BST after a night out and his phone was tracked as taking the same route as a bin lorry.
As part of the inquiry, police trawled a landfill site in Milton, Cambridgeshire, for the missing airman's remains.
However, after the search the force said they were "content" he was not in the landfill areas.
Assistant Chief Constable Simon Megicks said he had "absolute confidence" in the way the investigation was conducted.
"The major investigation team inquiry has been reviewed at various points by senior officers within the constabulary and external experts," he said.
Det Supt Elliott added: "If any new, credible and proportionate inquiries relating to Corrie's disappearance emerge we will pursue them."
The force said Mr Mckeague's family have been informed of the decision.
Mr Mckeague's mother Nicola Urquhart previously said the search of the waste site had given her "immeasurable peace of mind".
The investigation into the disappearance has cost £2.1m and Suffolk's police and crime commissioner said the government had agreed to contribute with a special grant, expected to be about £800,000.