Man on horse tries to place McDonald's drive-thru order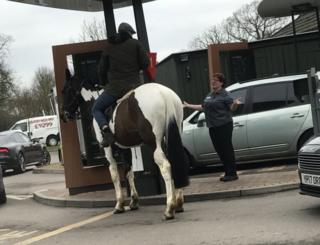 Customers at a drive-thru McDonald's restaurant were surprised when a man tried to make an order on horseback.
The scene was snapped on Thursday at about 13:00 by marketing consultant Jason Barrett, who was queuing for his lunch near Beccles, Suffolk.
Mr Barrett said he heard the horse "trotting up" to the kiosk before a member of staff came out to tell him he cannot make his order there.
McDonald's said its drive-thru lanes were "not suitable for horses".
You may also like:
Mr Barrett said: "I had to do a double take. You don't see that every day."
He said the rider tied his horse up and emerged from the restaurant with a coffee.
"He just trotted off across the grass with his latte," he said.
A McDonald's spokeswoman said: "Our drive-thru lanes are specifically designed for roadworthy motor vehicles only and are therefore not suitable for horses."
She said the customer was invited inside the restaurant, where "they were more than happy to be served".