Badger-damaged road sinking, locals say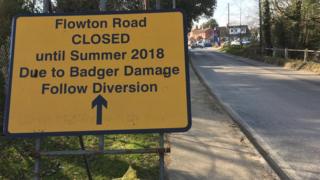 "Badger damage" has caused the road into a village to start sinking, locals have said.
The burrowing mammals have made themselves at home under the highway in Somersham, Suffolk.
Residents said they fear motorists driving along Flowton Road are "risking their lives" by ignoring warning signs.
Emergency road closures are in place but the damage cannot be repaired until permission to disturb the protected species' habitat is granted.
Sue Wells, who lives in the village, said the badgers have dug all of the sand from underneath the road but it is not known how deep the hole is.
'Road could give way'
Motorists have not been taking the signs seriously and have been moving them out of the way to allow them to drive through the closure, she said.
"No-one should be coming through here, it's dangerous, the road could give way," she said.
Suffolk County Council put closures in place after getting reports of the road sinking because of animal activity.
Its ecology team has identified a badger sett at the site, the authority said.
It said Natural England usually only issues licences between 1 July and 30 November to ensure the badgers are not disturbed during their breeding season.
Community engineer Justin Lewis said: "Suffolk Highways are now liaising with Natural England to plan the necessary repair works, which are likely to be undertaken during the summer."