Hundreds of student nurses overpaid in loan gaffe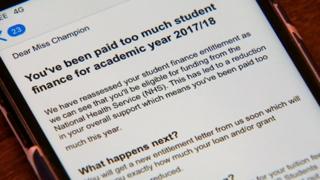 Hundreds of student nurses are facing "hardship" after they were wrongly paid loan instalments of up to nearly £4,000.
The Royal College of Nursing (RCN) said the error could have "disastrous results", with at least nine universities affected.
Students said they were "worried sick" amid concerns that some may have to drop out of their courses.
The Student Loans Company (SLC) said it was contacting individuals directly.
Suffolk, Derby, Southampton and West London universities have all been affected by the mistake, the RCN said.
The students were warned not to expect further payments, in an email which said they had been "paid too much student finance for academic year 2017/18", in amounts varying from £500 to £3,900.
At the University of Suffolk in Ipswich, 55 students have been affected.
Jess Champion, a third year children's health nurse, said: "People say, 'why didn't we just not spend the money', but last academic year we rang and we checked twice to make sure it was correct."
Jessica Sainsbury, a student in Southampton, said the error had "turned the world upside down" and said some of her peers may have to drop out. Emma Moss from the University of West London said she was "worried sick about being left with barely enough money to pay the rent, buy food and travel to work and university".
In a letter to the SLC, the RCN chief executive Janet Davies said she was "very concerned" about the "distress and disruption" and called for the overpayments to be written off.
"Student nurses, or indeed any students, are simply not in a position to cope with a sharp reduction in expected loan payments," she said.
The largest overpayments were made to the poorest students, she added.
The SLC said it could not say how many students were affected and would not comment on claims that students were initially told the payments were correct.
It said it was working with the providers involved and contacting students to make them aware of the different options open to them.