Shingle Street shell line inspired by friends' cancer treatment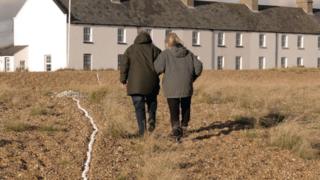 A long line of white shells on a beach started by two childhood friends while reflecting on their cancer treatment is still going strong after 13 years.
Lida Kindersley and Els Bottema, both 64, began the shell line at Shingle Street in Suffolk in 2005.
It now stretches for more than 275m (300yds) and is made up of 20,000 individual whelk shells.
Mrs Kindersley said it was a "symbol of friendship". A book and short film have been developed telling their story.
The women, who grew up together in Delft in the Netherlands, were diagnosed with breast cancer within two months of each other.
During a phone call discussing their treatment, Mrs Kindersley - a letter cutter in Cambridge - suggested to Ms Bottema - a ceramicist in Zutphen - they meet in England, and they travelled together to the Suffolk coast.
They said the creation of the line, which started after a long walk and chat on the beach, became part of their own, personal, therapy.
Mother-of-three Mrs Kindersley said they made a vow to return to the beach every six months to mend the line - and found others had added to it.
She said: "When we received our cancer diagnoses and the prognosis was not good, I said to Els, 'If we survive this, we will go together to Shingle Street as it is a healing place'.
"It is a symbol of friendship and togetherness, a collaboration we wanted to record before it eventually disperses."
Both women are now cancer-free.
Shingle Street resident Tim Miller said the line had become an important local feature that enhanced the wild landscape.
"Despite fierce weather conditions with strong winds, the line remains clear and powerful and visible throughout the year," he said.
"The line for me is a signal of courage and survival."