West Suffolk girl, 13, dies from asthma attack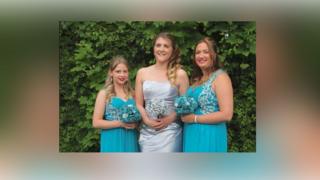 A 13-year-old girl died from an asthma attack less than eight years after her brother died in similar circumstances.
Tegan Wagner, a pupil at Westley Middle School in Bury St Edmunds, died due to complications with her asthma during the February half term.
Her brother Owen died aged nine in November 2010.
Tributes have been paid to Tegan and a fundraising page has been set up to help cover the costs of her funeral on 9 April.
Raksha Chohan-Jones, who was Tegan's head of year at Westley, said it had been "emotional" for the school.
She said Tegan was a "lovely, lovely" girl and said you "cannot put into words" what it was like for her family to deal with "a double tragedy like that".
"Our thoughts, our prayers, everything goes out to the family," she said.
'Wonderful young life'
The school still has a memorial plaque up for Tegan's brother, who was at the same school, she said.
They are planning a memorial for Tegan too.
As part of a BBC School Report, Tegan's friends spoke about how they had coped since her death.
They said they have been making memory books and have been supporting one another.
Her friends said "with time and support they can celebrate this wonderful young life".
As reported by the Ipswich Star at the time, Tegan's brother had an asthma attack while playing with friends at her sixth birthday party.
He was taken to West Suffolk Hospital where he later died.