Corrie Mckeague: Reported sightings total 150, say police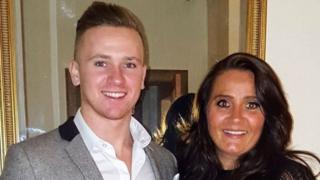 Reported sightings of missing airman Corrie Mckeague who disappeared after a night out have topped 150, police say.
Of those his mother, Nicola Urquhart, says she has been told 46 of those sightings were in Suffolk.
Mr Mckeague, who was serving at RAF Honington, was last seen in Bury St Edmunds, Suffolk, on 24 September 2016.
"This number of reported sightings is not unusual in an inquiry of this length," Suffolk Police said.
"All reported sightings of Corrie have been subject to review and testing of their veracity based upon all the evidence held within this inquiry."
Writing on the Find Corrie Facebook page, Mrs Urquhart said she would now be reviewing information of the sightings in order to carry out independent targeted searches.
She also urged anyone who had reported spotting Mr Mckeague in Suffolk to contact the force's major investigation team to check it was recorded.
A police spokesman said searches have not only been carried out in the areas around Bury St Edmunds and Barton Mills but also other areas.
Mr Mckeague, from Dunfermline, Fife, was last seen at 03:25 BST when he was captured on CCTV entering a bin loading bay known as the Horseshoe.
In another Facebook post over the weekend, Mrs Urquhart said she still believed her son could have later left the Horseshoe without being recorded again on CCTV, but police had only collected some footage recorded after 06:00 on the day he disappeared.
However, a police spokesman said: "From footage seized both in and around the Horseshoe area and also in the wider Bury St Edmunds town centre area, Corrie is not seen."