Beccles go-kart death: Grandfather's death was accident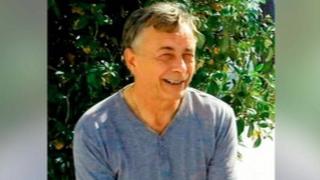 The death of a grandfather flung from a go-kart when his daughter-in-law crashed into the back of it was accidental, an inquest concluded.
Allan Fairweather, 63, of Oulton Broad, near Lowestoft, died at Ellough Park Raceway, near Beccles, Suffolk, on 25 September 2016.
The Ipswich inquest heard he was flung 12m (39ft) from the kart during his brother's 60th birthday celebrations.
He died from traumatic chest injuries and was confirmed dead at the scene.
The jury concluded Mr Fairweather died as a result of being in a stationary/slow-moving kart that was "impacted at speed".
"Although Ellough Park provided clear and sufficient safety instructions, it could not have foreseen circumstances in which a stationary or slow-moving kart would result in accidental death," the jury said.
In a statement, Ellough Park Raceway said: "Throughout our history, the health and safety of our customers, spectators and employees has been an important priority.
"We wish to extend our condolences to Mr Fairweather's family."
During the four-day inquest the jury was shown CCTV footage of the lead-up to the crash, which happened on the finish straight during the final lap of a six-lap practice race.
Mr Fairweather's son Jason finished in first place and the finish line marshal started to wave the chequered flag.
Drivers continued to cross the line, and Mr Fairweather appeared to slow to a stop just before he reached it.
His daughter-in-law Peggy Fairweather was seen rounding the final bend and overtaking another driver before crashing into the back of Mr Fairweather's kart, the inquest heard.
'Beautiful human'
Jason Fairweather said his father was the "nicest man I've ever known".
He said: "He was an amazing father, an even better granddad, just a beautiful human being.
"It's been 18 months of hell and now we're looking forward to moving on."
Peggy Fairweather said: "He was such a gentleman, he was so caring and understanding.
"He died doing the one thing that Jason loved doing and to think you went on a family day out and that's how it ended."