Danielle Perrett: Renowned harpist jailed for abusing schoolboy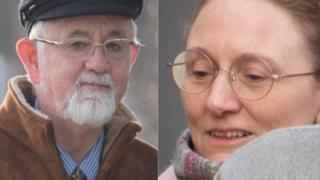 A renowned harpist and her former partner have been jailed for sexually abusing a schoolboy in the 1980s.
Danielle Perrett - who has performed for The Queen - took the boy's virginity and performed sex acts on him, Ipswich Crown Court heard.
Richard Barton-Wood sexually assaulted the boy on sailing and camping trips.
Perrett, 59, from Alpheton, Suffolk, and Barton-Wood, 68, from Wymondham, Norfolk were jailed for four years and nine months after being found guilty.
Perrett was convicted of six counts of indecent assault while Barton-Wood was found guilty of seven counts of indecent assault and one count of attempted indecent assault.
'Systematic abuse'
Both denied the charges but sentencing them, Judge Rupert Overbury said they had been regarded as "pillars" of the community.
"One of you a teacher and dedicated employee of the museums service who gave time to his community, the other a world-famous harpist with a reputation for kindness and integrity," the judge said.
Judge Overbury added both had a "darker side" and were involved in "systematic abuse of a teenage boy".
Who is Danielle Perrett?
According to her website, Perrett has performed across the globe in North America, South East Asia, and the Middle East
Her recordings have featured on The Today Programme and Women's Hour
She taught at the London College of Music and for 25 years taught musicianship and harp at the Royal College of Music junior department
She won "several" awards from the Arts Council of Great Britain
During a four-week trial, the court heard that Barton-Wood was a substitute teacher at the school the boy, now an adult, attended in his early teens.
The jury was told that Perrett stripped naked and got into bed with the boy, where she had sex with him, and Barton-Wood followed suit by sexually assaulting him.
The pair had claimed the allegations were untrue and the accuser was trying to blackmail them.
Det Insp Claire Burgess, from Suffolk Police, said: "Together they destroyed the victim's teenage years and left him carrying the burden of the abuse he suffered for the next 30 years.
"I hope the sentences handed down to these two predatory individuals today will now begin to enable him to move forward with his life."