Ipswich murders: Soliciting drops 66% since killings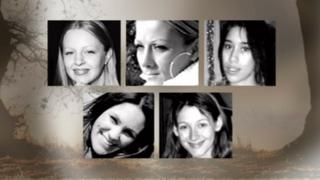 The number of soliciting offences by sex workers has dropped by two-thirds since new guidance was introduced after the murders of five women in Suffolk.
After the 2006 killing spree by Steve Wright, a national strategy was introduced aimed at helping sex workers while targeting pimps and clients.
Home Office data reveals soliciting offences in England and Wales fell from 1,216 in 2007-08 to 420 in 2016-17.
Campaigners say sex workers continue to be "criminalised".
In total more than 8,600 offences were recorded in the 10-year period between 2007 and 2017, despite guidance saying sex workers should receive support and treatment.
Forklift truck driver Wright was found guilty of killing Gemma Adams, Tania Nicol, Anneli Alderton, Paula Clennell and Annette Nicholls in a six-week period between October and December 2006.
He was convicted on 21 February 2008 and is serving a whole-life sentence for the murders of the women, who had all been sex workers on the streets of Ipswich.
A Home Office review into tackling the demand for prostitution followed, and the Crown Prosecution Service recommends prostitution should be addressed as sexual exploitation within the overall violence against women strategy.
It says prostitution is a victim-centred crime and those who are abused and exploited required holistic help and support to exit prostitution.
Online sex industry
According to separate figures obtained by the BBC via Freedom on Information requests, there were 122 soliciting offences recorded in Ipswich in 2007, but none since 2011.
Jim Duell, the father of 19-year-old Miss Nicol, the first victim in the Ipswich murders, said the decrease in offences was good but questioned whether prostitution had moved off the street to somewhere else.
Brian Tobin, chief executive of the Iceni Project, a drugs misuse charity in Ipswich, put the decreased number of offences down to the increased online sex industry and the work of organisations helping to get women off the streets.
He said: "I still get contacted from places including Luton, Plymouth and Nottingham about what we did here in Ipswich to eradicate street prostitution.
"I think we could eradicate it completely in this country if there was the will to do so.
"It's a huge ask and requires resources, energy, local champions and patience, but to eradicate street prostitution would be fantastic."
The Home Office data shows the largest number of soliciting offences was recorded by Avon and Somerset Police with 1,547 between 2007-08 and 2016-17.
In Hull sex workers were banned from the city's red light district. Humberside Police recorded 179 crimes between 2007-08 and 2013-14, but none in the following three years.
However the English Collective of Prostitutes (ECP), a self-help organisation of sex workers, said the Home Office figures were "misleading" and that women were still being "criminalised".
It said civil orders, including anti-social behaviour and public place protection, were being used against women and they were receiving on-the-spot fines.
This is despite a Home Affairs Committee report in July 2016 which recommended a change in the law "so that soliciting is no longer an offence", the group said.
The ECP said: "We are guilty before proven innocent. We face saturation policing without protection, when we try to report violence to the police we are told it's part of the job.
"More women are working on the street because of a rise in poverty and government policies like benefit sanctions.
"Why isn't the local council tackling this instead of criminalising us for trying to survive?"
The Home Office has been approached by the BBC for comment.
In 2014, part of the Holbeck suburb of Leeds became the first place in the UK where it is permitted for women to sell sex between specified hours.
Daria Pionko, 21, was killed in the area on 23 December 2015, but those behind the scheme said it is safer than traditional street prostitution and had led to an improved relationship with police.
West Yorkshire Police recorded 24 soliciting offences across the entire force area in 2007-08. By 2016-17, these had fallen to 10.