Adele Bellis's acid attacker fails in conviction appeal bid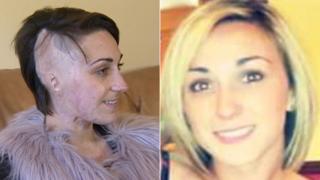 A man jailed for life for arranging an acid attack on his ex-girlfriend has failed in a bid to overturn his conviction.
Adele Bellis, 23, was scarred for life after the liquid was thrown on her at a bus stop in Lowestoft in August 2014.
Anthony Riley, 28, was jailed for a minimum of 13 years. His lawyers said a deal between a fellow defendant and prosecutors undermined the conviction.
But London's Appeal Court heard "there was other powerful evidence" of guilt.
Lord Justice Davis said: "Riley was asking the jury to acquit him, despite over 20 separate coincidences [linking him to the acid attack]".
The attack was carried out by Jason Harrison, 29, of Princes Road in Lowestoft, who admitted his guilt and was jailed for four years.
Prosecutors in the original trial told the jury Riley, of Raglan Road in the town, paid Harrison £500 to carry it out.
Lawyers for Riley claimed the jury was not told about a deal made between Harrison and prosecutors, which prevented him from being cross-examined by Riley's legal team.
Riley was found guilty of false imprisonment, conspiracy to apply a corrosive liquid and conspiracy to cause grievous bodily harm with intent.
Lord Justice Davis concluded: "The judge directed the jury to approach the evidence of [the witness] with caution.
"Our clear conclusion is that omitting to inform the jury and let them see the agreement would not arguably have made a difference. Permission to appeal against conviction is refused."