Ipswich Garden Suburb's £9.8m funding boost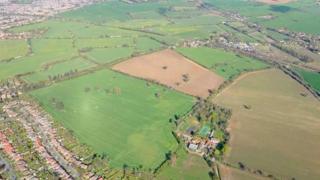 A scheme to build 3,500 new homes on the outskirts of Ipswich has been given a £9.8m funding boost.
The Ipswich Garden Suburb, formerly known as the Northern Fringe Project, is one of 13 council-led projects in the East of England to receive government investment.
It will see the homes built on land between Henley and Westerfield.
Sajid Javid, government housing minister, said the money will "get much-needed homes built quicker".
Labour-run Ipswich Borough Council said the money from the Housing Infrastructure Fund will enable new roads and drainage to be installed.
It said it will also go towards the construction of new bridges over the East Suffolk rail line and the development of a new country park between the suburb and Westerfield.
Labour borough councillor Carole Jones said: "All of these are expensive but necessary elements of this development."
The government has announced £866m is being invested in 133 local housing projects across the country, including others in Chelmsford, Thetford and Colchester