Suffolk volunteers to become 'eyes and ears' for police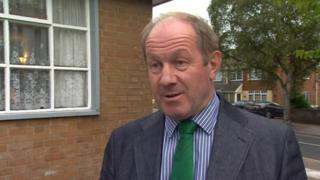 Civilians are set to become the "eyes and ears" of the community for the police under a new voluntary scheme.
Suffolk Police said it would trial the initiative in six towns and villages - Woodbridge, Eye, Stanton, Long Melford, Beccles and Bungay - from the end of March or beginning of April.
It said volunteers would wear tabards and be involved in "gathering information".
Suffolk's police and crime commissioner said they would not replace officers.
Tim Passmore said the Local Policing Volunteer Scheme was a "supportive role" to the constabulary and "doesn't make any difference to the pounds we've got".
His office said the scheme was "more enhanced" than Neighbourhood Watch.
'No substitute'
Volunteers would undergo a training package and would have a direct point of contact with the police, including regular meetings, it said.
They will be tasked with keeping a watchful eye on what is happening in their community and will call or email information to the force.
"It certainly isn't a substitute for the full-time professional police officers," Mr Passmore said.
"It's more about observation and supporting the police, helping to put together parts of the jigsaw - they're not going to have powers to intervene."
As first reported in the East Anglian Daily Times, each community will have up to four volunteers.
Funding would come from existing training budgets, police said.
Mr Passmore said the scheme would be similar to Suffolk Horse Watch, was launched two years ago, which relies on horse riders to keep an eye out in their community.
If the pilot was successful, it would be rolled out to more communities, he said.
Durham Constabulary said it was recruiting volunteers for a similar scheme called Police Community Support Volunteers (PCSVs).