Orwell Bridge closures: Firms say they are losing out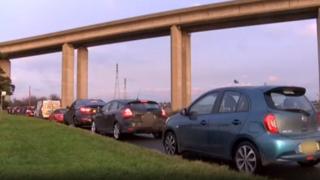 The closure of a major road bridge three times in a month has been discussed at a meeting about how to improve congestion on the A14.
The Orwell Bridge in Suffolk has faced closures in high winds and poor weather conditions, leading to businesses saying it is "not on".
Business leaders and politicians met at Suffolk Chamber of Commerce to discuss investment options,
Highways England says it only closes the bridge when essential for safety.
"The wind speeds at which the bridge needs to close have not changed - there have simply been more severe weather events recently.," a spokesman for the organisation said.
'Move elsewhere'
Stephen Britt, who runs distribution firm Anchor Storage, said it would be impossible to go on having a closure each week.
"That's just not on, and people will get fed up with it," he said.
"We'll cope with whatever's thrown at us, but it'll be other people saying 'hang on, this is causing us too many problems having businesses in Suffolk which have to cope with the bridge being closed - perhaps we ought to have a look at taking our business somewhere else'."
One idea to deal with the problem is segregating lorries and cars so smaller vehicles can continue using the bridge in high winds.
Highways England said it was looking at separating high-sided vehicles as a longer-term solution.
Following the Chamber of Commerce meeting, participant Nick Burfield said it was "disappointing" that no indication had been given about timescales for future improvements.