Constipation death patient 'could have been saved'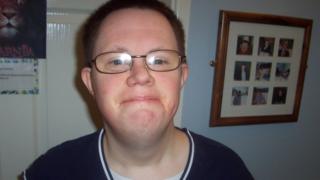 A man who died from complications related to constipation could have been saved, an inquest heard.
Richard Handley, 33, who had Down's syndrome, died at Ipswich Hospital on 17 November 2012.
Some 10kg (22lb) of faeces was removed from his body two days before.
Independent specialist consultant Kamal Aryal said if "more aggressive" treatment had been implemented, Mr Handley "more than likely would've survived".
Mr Aryal said it was the first time in seven years as a consultant he has heard of a death from faecal impaction.
He said if "managed appropriately" patients survive.
The hearing in Ipswich previously heard Mr Handley was living in supported housing in Lowestoft.
He had been admitted to hospital on 14 November with a distended abdomen which made him look "full-term pregnant".
Mr Handley underwent an operation to remove the faecal matter the next day.
After the operation, he started to vomit and he died from choking on gastric contents the following day.
Mr Aryal told the inquest he would have been concerned if a patient started to vomit post-operation.
He said he would have sent Mr Handley for a CT scan and a rectal examination, consulted with the intensive care unit and gone into theatre to decompress his "gas-filled" colon.
That would have prevented him choking, he told the inquest.
During cross-examination, Mr Aryal confirmed he had noted there was a lack of consultant cover at Ipswich Hospital at the time.
On Thursday, Lisa Nodes, the director of nursing at Ipswich Hospital, said Mr Handley had not been seen by any senior consultant despite his deteriorating condition.
She said he had been missed off a ward round the morning after his admission when he would have been seen by a senior doctor.
The inquest continues.