East of England Ambulance Service: Prime minister told of concerns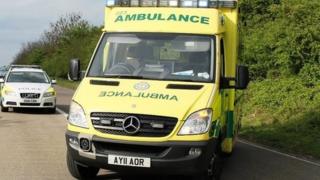 Concerns about an ambulance trust have been raised with the prime minister after the death of a man left outside overnight in "inhospitable" weather.
Waveney Conservative MP Peter Aldous urged Theresa May to back an inquiry into the incident involving East of England Ambulance Service (EEAS).
EEAS told the BBC that 40 potential serious incidents were reported by staff over a two-week period.
Mrs May said she shared the MP's concerns and an inquiry was under way.
At Prime Minister's Questions, Mr Aldous said: "On 28 December, the East of England Ambulance Service attended an address in Lowestoft at which a man was sadly confirmed as having died.
"This followed on from a call the previous afternoon from the police regarding the same person, who it would appear was left outside overnight in what were inhospitable weather conditions.
"I've now spoken to the person who made the initial call to the emergency services, and I have serious concerns as to how the matter was handled, including why the case only came to light in the last few days."
'Unusually high number'
Mrs May replied: "There have been concerns raised about the provision of services in the East of England Ambulance Service Trust, including obviously this very, very worrying and tragic case that he has raised.
"We take these cases very seriously."
The trust said the 40 potential serious incidents were reported by staff between 18 December and 3 January.
It said this this was an "unusually high number" and that some cases were likely to have been "caused by delays in reaching patients".
The admission followed claims of a whistleblower that a number of people had died after waiting for ambulances.
On Monday, Health Minister Steve Barclay told the Commons that claims against EEAS had been raised with senior NHS officials and there would be a "risk summit" to discuss concerns.