Ipswich mother wins six-figure payout after cancer missed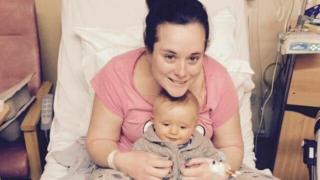 A woman has won a six-figure payout after doctors failed to recognise the symptoms of cervical cancer, her lawyers said.
Tayne Eaton, 27, from Ipswich, first got sick in 2013 when she was living in Essex.
She saw her doctors in Basildon a number of times and after she had a baby her symptoms of bleeding and stomach aches got worse.
Ms Eaton was only diagnosed with cervical cancer 17 months later.
Her solicitors, Irwin Mitchell, said the GPs should have carried out a physical examination and that they failed to adhere to national guidelines by not referring her for a review by a gynaecologist.
Ms Eaton had to undergo chemotherapy, a hysterectomy and several other operations and procedures to prevent the cancer spreading.
Guy Forster, specialist medical negligence solicitor at Irwin Mitchell, said: "Delays in diagnosing cervical cancer can have devastating effects for the women involved and their families.
"Experts have confirmed the care that Tayne received fell way below expected standards.
"For doctors to not consider the possibility that she may have cervical cancer with the symptoms she was reporting was unacceptable because the signs were clear."
Ms Eaton is now campaigning to raise awareness of the symptoms of cervical cancer.
"It is vital that women know the symptoms they need to look out for and take medical advice straight away," she said.
"Doctors also need to ensure that they conduct thorough consultations and take patients' concerns seriously."
A spokesman for Irwin Mitchell said it could not release further detail about the exact settlement.
The payment will be made by a medical defence organisation, which provide insurance for GPs.