Constipation death 'wholly preventable'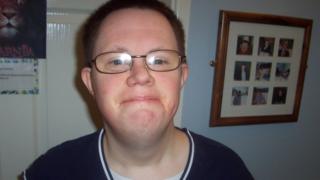 The mother of a man who died from complications related to constipation told an inquest his death was "wholly preventable".
Richard Handley, who had Down's syndrome, died at Ipswich Hospital on 17 November 2012.
Some 10kg (1.5 stone) of faeces was removed from his body two days before.
The 33-year-old had been admitted from his supported living home after his family became concerned about his distended abdomen.
His mother, Sheila Handley, told the opening day of the inquest in Ipswich that "missed opportunities" to manage her son's lifelong problem with constipation contributed to his death.
'Full-term pregnant'
Mr Handley was born with moderate learning disabilities and bowel problems and the family said they provided daily laxatives and a high-fibre diet to alleviate his constipation.
After mental health and behavioural problems, Mr Handley was moved to the Bonds Meadow care home in Lowestoft in 1999.
Mrs Handley said that when the care home was turned into a supported living complex in 2009, the family became concerned about his diet and a lack of monitoring of his bowel movements.
She said that when she raised the question of her son being allowed to eat whatever he wanted, she was told it was "because he had a right to".
In November 2012, the family became concerned with his distended abdomen which made him look "full-term pregnant".
He was admitted to hospital on 14 November and the operation to remove the faecal matter took place the next day.
Jason Wong, a pathologist at Ipswich Hospital, told the inquest Mr Handley died from choking on gastric contents.
Mrs Handley said her son was a "much-loved member of the family" and that it was "very important to the family to ensure lessons are learned and improvements made".
The inquest is due to last for at least two weeks.