Misconduct probe MP Daniel Poulter returns to Commons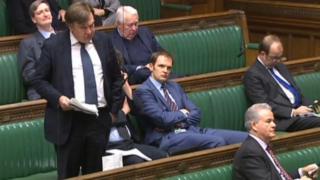 An MP who has been on sick leave amid an internal inquiry over misconduct allegations has returned to the House of Commons for the first time since the end of October.
The Conservative Party is investigating allegations that Dan Poulter MP behaved inappropriately towards female colleagues.
Mr Poulter, MP for Central Suffolk and North Ipswich, denies the claims.
He appeared during a reading of a bill, but did not speak.
Mr Poulter sat next to his fellow Suffolk Conservative Peter Aldous - the Waveney MP who introduced a private member's bill about the construction industry.
The office of Mr Poulter said he would not comment on his reappearance in the Commons, but last week a spokeswoman confirmed he was about to make a "vigorous return".