Fighter pilot 'debriefed' after near miss with RAF helicopter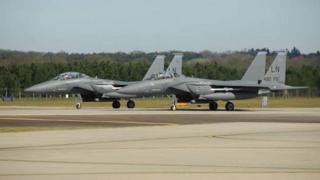 A US fighter pilot was involved in a near miss with a helicopter while travelling in a no-fly area.
An RAF Griffin training helicopter was flying over Snowdonia when it detected a fighter jet "closing rapidly".
The incident in July left the helicopter having to take "immediate evasive action" to avoid the Lakenheath-based F15.
The UK Airprox Board, which probes near misses, found the F15 should not have been in the Llanberis Pass.
In its report into the episode the board said the helicopter crew "would not have been expecting such a fast-moving aircraft to be in the vicinity" because the UK Military Low Flying Handbook states that fixed wing aircraft should not enter the Llanberis Pass".
The report said: "It has long been recognised by the [48th Fighter] Wing that the Llanberis Pass is not to be entered by fixed wing aircraft.
"In this case, the crew mistook the Llanberis Pass for the adjacent Nant Ffrancon Pass, which resulted in the Airprox [near miss].
"They have been debriefed accordingly."
However, the board also found the wording and interpretation of current guidance for aircraft training in the Snowdonia area was ambiguous.
It currently says fixed wing aircraft "should not" - rather than "shall not" - go down the Llanberis Pass.
The board said the wording should be reviewed and made clearer to avoid any confusion.
Lt Elias Small, spokesman for the 48th Fighter Wing, said: "Our pilots train every day to improve their skills, and they understand the importance of adhering to local UK flying procedures.
"Although the crew mistook the Llanberis Pass for the adjacent Nant Ffrancon Pass in this instance, we concur with the board's assessment that a review of the regulation will help reduce risk in the future."