Corrie Mckeague: Search for missing airman extended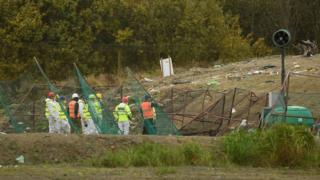 The search of a landfill site for an RAF serviceman missing since September 2016 is being extended.
Police believe Corrie Mckeague, who vanished on a night out in Bury St Edmunds, Suffolk, climbed into a waste bin and was taken away by dustcart.
The latest search of the site at Milton, Cambridgeshire, was due to end next week but police say it could now continue for several more weeks.
Mr Mckeague's mother Nicola Urquhart said the development was "positive".
Police said timescales were "not set in stone", and they anticipated the search may continue to early-mid December.
Mr Mckeague, a gunner based at RAF Honington, was from Dunfermline, Fife, and aged 23 when he disappeared.
He was last seen on CCTV in Bury St Edmunds in the early hours of Saturday, 24 September 2016.
The current search is in its fifth week, but officers are still only finding rubbish dating from five days before he went missing.
Writing on Facebook, Mrs Urquhart said she could not find the words to express just how much she "desperately wants" to find her son. "It is not closure I am looking for, it is Corrie I am looking for."
More than 1,400 tonnes of rubbish have been examined since the search restarted.
The excavation is focused on an area called Cell 22, next to the site of the original search, which ended in July after 20 weeks.
At the time, Mr Mckeague's family said they were "devastated" by the decision to stop the search.
Last month a report by specialist officers from the East Midlands concluded Mr Mckeague was "most likely" at the landfill site.
It had looked into the Suffolk investigation and found no other possible lines of inquiry.