Lauri Love hacking case: MPs fight extradition to US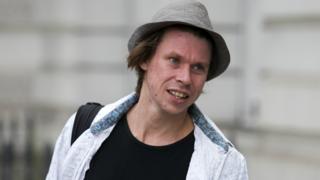 A group of MPs says there will be "potentially fatal consequences" unless the government halts the extradition of an alleged computer hacker to the US.
Lauri Love, 32, from Stradishall, Suffolk, who has Asperger syndrome, is suspected of hacking into FBI, US Central Bank and Nasa systems.
Campaigners want President Trump to be asked to allow the student to be tried in the UK.
A government spokesman said it was for a judge to decide on extradition cases.
Deep concern
In a letter to the Attorney General Jeremy Wright, which was also sent to Downing Street, a cross-party group of MPs said "eminent experts" judged Mr Love would be at "very high" risk of suicide if sent to the US for trial, and urged them to pass on their concerns to their American counterparts.
Naomi Colvin, from the Courage Foundation, which runs Mr Love's defence fund and support campaign, said: "To the best of my knowledge, and that of Lauri's legal team and his family, the UK Government has not made any kind of representation to Donald Trump asking for us to be able to try Lauri here".
In October 2016, more than 100 MPs wrote to the-then president Barack Obama calling on him to block Mr Love's extradition, stressing their "deep concern" for his safety.
Mr Love was first arrested at home in 2013 and had computer equipment seized by British police who then released him on bail.
He was not charged in the UK, where the investigation into him was dropped.
Mr Love was given permission at the end of April to challenge his extradition to the US.
The appeal will be heard on 28 and 29 November at the Royal Courts of Justice when Mr Love's legal team is expected to offer new evidence.