Elmswell lead thieves leave parishioners standing in puddles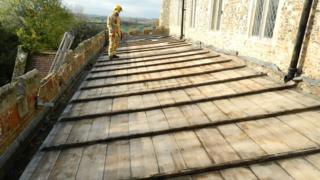 Parishioners gathering for a church remembrance service found themselves standing in puddles of rain after thieves stripped lead from the roof.
The rector of St John the Divine Church in Elmswell, Suffolk, discovered a "vast quantity of lead" had been stolen as he let people in on Saturday.
The Reverend Peter Goodridge said the gang had disabled the roof alarm and knocked masonry into a memorial garden.
After going into the church he looked up to "see daylight through the roof".
Mr Goodridge said: "We opened the front door to go in for our prayer meeting, getting ready for a special Remembrance Day service and suddenly found ourselves in puddles.
"A large mopping up job had to be done before our main Remembrance Sunday service today."
It was thought thieves had targeted the church overnight, with the rain ruining some of the church's fixtures and fittings.
Initially, Mr Goodridge said he thought St John's memorial garden had been vandalised when he spotted lumps of masonry strewn about.
Firefighters were later called to help make the building watertight.
"There was great sadness, but resilience too, as nothing was going to stop us having our important service today," said Mr Goodridge.
He added villagers hoped to launch an online fundraising page to help any repair costs not covered by insurance.