Corrie Mckeague: Search rules out bin lorry escape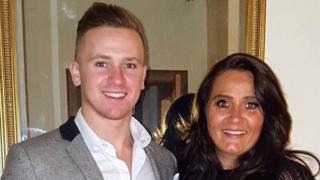 The mother of missing RAF airman Corrie Mckeague says a fresh search has ruled out him escaping from a bin lorry en route to landfill.
Mr Mckeague disappeared on a night out in Bury St Edmunds in 2016, when CCTV showed him entering a bin loading bay.
On Sunday, volunteers found no trace of Mr Mckeague at a waste transfer site where a lorry would have stopped.
His mother, Nicola Urquhart, called the news a "great relief".
"The thought that your child has managed to drag himself away, but dies of injuries is horrific," she said.
"No matter how rational or positive I try to be, that has been very hard to cope with all this time."
Suffolk Police last week resumed a search of a landfill site at Milton, near Cambridge, after an examination of the site ended in July.
Ms Urquhart said she also wanted police to look at a refuse site in Bury St Edmunds, where there was an "extremely remote" chance Mr Mckeague, having survived a crush in the bin lorry, had escaped.
The mystery of the airman who disappeared
The one-day waste transfer site search was carried out by 30 members of Suffolk Lowland Search and Rescue (SULSAR).
"I am very grateful it has now been done," she said.
Last week, a report by specialist officers from the East Midlands concluded Mr Mckeague was "most likely" at the landfill site.
It had looked into the Suffolk investigation and found no other possible lines of inquiry.
The new search in Milton is expected to last four to six weeks .
Mr Mckeague, from Dunfermline, Fife, who was 23 when he went missing, was last seen at 03:25 on 24 September 2016.
He had been on a night out with friends from RAF Honington.