Corrie Mckeague: Airman 'most likely in landfill site'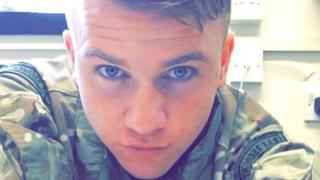 Missing RAF airman Corrie Mckeague's body is "most likely" in a landfill site where a resumed search is under way, an independent inquiry says.
Suffolk Police is searching for his body at the site in Milton, near Cambridge, after examinations were halted there in July.
East Midlands Special Operations Unit's inquiry supports the continued search.
Mr Mckeague disappeared in Bury St Edmunds, Suffolk, in 2016, after CCTV showed him entering a bin loading bay.
The inquiry by the unit, made up of specialist officers from five police forces, assessed whether there were any other lines of inquiry in the Mckeague case.
The mystery of the airman who disappeared
It concluded police conducted "a thorough, methodical and detailed investigation and explored all reasonable lines of inquiry with no new further leads needing to be pursued".
Mr McKeague's mother, Nicola Urquhart, said she has not yet seen the report but expects Suffolk Police to share its contents with the family at a later date.
"They've said there are 14 recommendations... some of them might have already been carried out by now, or they may be under way, but Suffolk [Police] still need to be able to take a little time to be able to look through this," she said.
The resumed search at the landfill site is expected to last four to six weeks and follows a 20-week search earlier this year.
Officers said they will concentrate on an area adjacent to the original search site, which police say is "the next most likely area" to hold Mr Mckeague's remains.
'No trace'
Mr Mckeague, from Dunfermline, Fife, who was 23 when he went missing, was last seen at 03:25 on 24 September 2016.
He had been on a night out with friends from RAF Honington.
Mrs Urquhart earlier wrote that officers had found nothing in the first week of the resumed search.
"The search this week has been negative with no trace of Corrie or his belongings," she said.
However, she added: "I am very happy that they are still searching that landfill.
"We just have to wait until it's completed and then see what happens next if they've not found Corrie."
She added: "I would rather be waiting for a phone call knowing that they're still looking for Corrie, than that they'd given up, when they're still so sure that he is in that landfill."