'Rare' Rolex fetches £230,000 at auction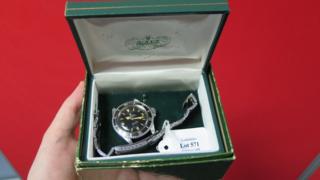 A Rolex watch which was once rescued from a cement mixer has sold for £230,000 at auction.
Auctioneers said the watch, which was originally purchased in 1965, was one of the "great rarities".
Lockdales Auctioneers said bidders had flown over from Italy, the USA and Holland to take part in Wednesday's sale at Martlesham Heath, Suffolk.
Its estimated value was £8,000. The auctioneers said the market for vintage watches "seems to be very hot".
The Rolex Oyster Perpetual Submariner Wristwatch features orange numerals on an expanding bracelet.
It was sold on behalf of a man from East Anglia who took the watch to a valuation day road show, the auctioneers said.
Chris Elmy, from Lockdales Auctioneers, said: "The owner wishes to remain anonymous, but apparently the watch had once been rescued from a cement mixer, when it fell off his wrist.
"Lucky it didn't do much damage."
He said, according to the successful bidder, one of the reasons why the watch is so valuable is because the dial is in "such good condition".
The orange numerals also make it "incredibly rare", he said.
In addition to bidders in the auction room, there were more than 100 online and 10 telephone lines open.
The buyer was an Italian man, who wanted to remain anonymous.
An Omega Speedmaster watch, from 1962, sold for £32,000 at the auction.