Ipswich Town win appeal in battle over police costs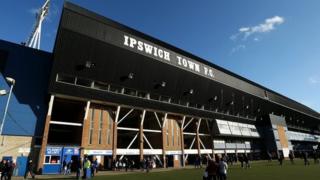 Ipswich Town Football Club has won its appeal in a battle over the cost of policing matches.
Last year, the High Court agreed Suffolk Constabulary were entitled to recover costs for officers on streets around the Championship club's ground.
But at the Court of Appeal earlier, three judges upheld the club's appeal, having been told the High Court judge had misdirected himself on the law.
Michael Beloff QC, representing the club, said about £500,000 was at stake.
Mr Beloff added that if the initial ruling had been upheld it would have been "expensive for a large number of clubs in the Football League and, one may infer, in the Premier League too".
The argument centred around police officers in Portman Road and Sir Alf Ramsey Way, where the stadium gates and turnstiles are located, between 2008 and 2013.
In the initial High Court case, lawyers for the police argued the club controlled the public highway, which club bosses disputed.
Allowing the appeal, Lady Justice Gloster, Lord Justice Gross and Lord Briggs sent the case back to the High Court to resolve the issue of the amount due to the club by the police.
Lady Justice Gloster said: "It is for parliament to change the law, if it considers it appropriate to make football clubs pay for police attendance at football matches on the highway, outside the stadium or other privately owned land."
The club said it was "pleased" with the judgement.
"We have always enjoyed a close working relationship with Suffolk Constabulary and that will continue going forward," a spokesman said.