Ipswich sex worker murders: Talitha Koum drug rehab centre opens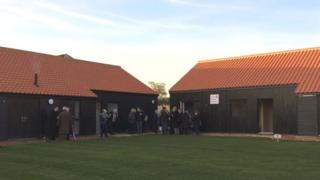 A £425,000 drug rehabilitation centre set up as a legacy to five sex workers murdered in Ipswich will accept its first referrals this week.
The Suffolk Christian-run Talitha Koum treatment centre for women has taken about 12 years to complete.
Donations following the deaths of street workers Gemma Adams, Tania Nicol, Anneli Alderton, Paula Clennell and Annette Nicholls, killed in 2006 by Steve Wright, helped to build it.
All five women had battled with drugs.
The Talitha Koum community wanted to open a treatment facility for women as early as 2004, but those behind it said it was the murders of five drug-addicted women who worked on the streets of Ipswich in 2006 that highlighted the need for new ways to help substance abusers.
The community takes its name from a biblical quote, meaning "my child, get up," in Aramaic.
"What happened in Suffolk with the tragic loss of the five women, people wanted to help but they didn't know how," John Cobbold, the project's chief executive said in 2011.
The centre, which is not exclusively for Christians, is intended to "give women a second chance so they can come off drug and alcohol addiction and change their life for the better".
Built on farmland in Witnesham, north of Ipswich, it can treat a maximum of seven patients at any one time.
It will use a 12-step treatment programme, be run by fully qualified staff and be regulated by the Care Quality Commission.
One of the reasons it has taken so long to complete was "finding exactly the right people to run this place", project director Ken Donaldson said.